Email Extractor 16 for Linux
Lightning-fast, precise, and intelligent: Recovers your lost email contacts in seconds.
Email Extractor for Linux can extract email addresses from files on your computers, fast and precisely. It retrieves all valid email addresses, automatically removes duplicates, and intelligently takes off false email addresses. It supports such file formats as Microsoft Word, Excel, PDF, Apple Pages/Numbers/Keynote, compressed formats (eg, zip, rar, gzip) and more...

Easy to use: simply drop & drop the files and folders onto the program window, then click button "Extract Email Address"

Supports more file formats, faster and more accurate than any competitor's software.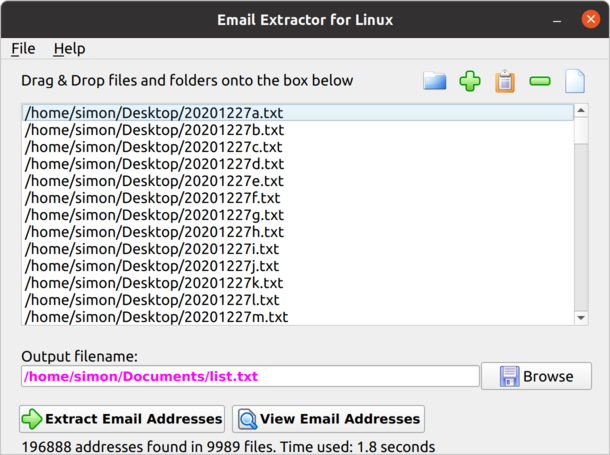 Supports Ubuntu 22.04 and later
---
Supported file formats and software
Plain-text files
Microsoft Office files (Word, Excel)
PDF files
Linux Clipboard (Click at the icon to extract email addresses from the clipboard.)
Unicode-encoded files (UTF-8, UTF-16, UTF-16 Big endian)
zip, gzip, bzip2, 7zip, tar, and rar file formats.
Apple Keynote, Pages, and Numbers files
Various other formats....
---
Why choose our Email Extractor software over competitors' software?
There might be many other programs called "email extractor". This is the only one that can actually help you.
Supports a wide array of popular file formats, such as Excel spreadsheets, Apple Pages documents, PDF and MS Word files, and .zip files. Our email extractor software supports more file formats than any competitor's software.


Few false email addresses.

Email Extractor for Linux intelligently identifies and removes false addresses like 308f5b281f2f13f9@gmail.com, a@yahoo.com, johnsmith@microsoft.xx , and saves hours or even days of your valuable time for manually picking bad addresses. By contrast, our competitors' software may give you more false addresses than real email addresses. Imagine a situation: you are given 20,000 addreses, only less than 1,000 are valid. Are you going to send email to such a list, only to receive tons of bounced back emails and be banned by your ISP?



Works lightning fast. It takes seconds to scan one GB of data.

Seeing is believing. We suggest you download a trial version, and see how our software compares to competitors' products.
---
See also:


Outlook Email Address Extractor, extract email addresses from Outlook mail folders.


Outlook Attachment Extractor, extract file attachments and pictures from Outlook.


Email Extractor for macOS, extract email addresses from Apple Mail, Outlook for Mac, and a wide array of popular file formats.


Email Extractor for Windows, email extractor software for Microsoft Windows.


e-Campaign, send bulk email to your mailing lists.
Linux Email Extractor, Extract Email Addresses from text files and PDF files, Linux Email Extractor, Email Address Extractor for Linux